My favorite scripture insight of the week:
Ephesians 4 uses the word "calling" uniquely. Yes, calling has to do with gifting, ministry, and life purpose, but Ephesians also teaches that our calling is unity with other believers.
Ephesians 4:1-3 reads: "… walk in a manner worthy of your calling … being diligent to preserve the unity of the Spirit."
In spite of our differences – and 2019 is a year of differences. In spite of so many varying viewpoints in the church – we are called to unity.
This makes sense as our calling for gifts and ministry would be ineffective without unity with other believers!
I was up early Friday morning.
From 2 a.m. to 4 a.m., I hosted a First Steps Conversations webinar for a group of believers and church leaders in the Philippines. I've been working on a Zoom studio in my house during the COVID crisis, and I hope to soon be podcasting Interruptions.
My view at the Zoom studio at 2 a.m.: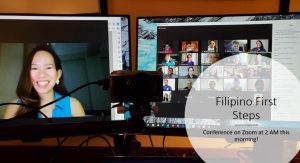 Prayer requests:
That Jesus would have final and complete victory over the COVID crisis.
That the presence of Jesus would bring peace to all of you!
That 500 would sign up for Interruptions in the USA. Please forward the Interruptions next week.
Testimony from an Interrupter (someone who reads Interruptions) … Expect God to do something miraculous this week!
Walking downstairs with toddler in arms … trip over toy on fourth or fifth step. Prayer consisted of "OH, GOD!", as I rolled to my left with arms wrapped around child then landed flat on my back on the tile/concrete landing.
No injury!
Child giggling in my arms said, "Let's do that again, Dad!"
"No son, that was a one-time ride!", as I reflected and wondered just where those feather pillows were that had just caught my body slam?