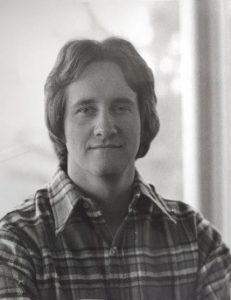 Everything comes to an end. All things change.
I have been the Senior Pastor at Fellowship (my church) for 48 years. My ministry began with 50 long-haired hippies that had accepted Jesus. I had been a Christian three weeks!
Not a typical way to begin a church. I've attached a photo, age 19, when Fellowship started. The day after this photo was taken, my hair turned white!!! (Teasing… but my hair was white in my early 30's.)
Forty-eight years in one place – unusual for pastors. One survey noted the average ministry tenure in one location is six years.
I became a Christian as a hippie in Daytona Beach, Florida, and traveled back to Springfield, Ohio, to tell my friends about Jesus. Travelling from Florida to Ohio, I heard the Lord speak to me, "Reach the young people of your area."
I thought "reach" meant sharing my testimony and after that going back to Florida and working at the outreach where I became a Christian. I had no intention of starting a church in Springfield.
The numbers went from one (me) to 50 to 150 in a few months. A good friend of mine said, "You can't go back to Florida, everyone needs you here."
An unusual way to start a church! Reaching young people became reaching slightly older young people became reaching young families became reaching slightly older families became reaching all ages.
48 years!
During that time I have traveled on many short term mission trips – to Russia (60 to 70 times), the Philippines (20 to 30), Israel (6), Bahamas (5) Cuba (4), Italy (3), Mexico (1).
Fellowship has released countless workers and individuals into ministry, to local and foreign missions, along with those following Jesus daily.
I am transitioning from Senior Pastor to Founding Pastor at Fellowship.
After being called to Fellowship, I have not heard the Lord say "leave" or "change" until recently. While in Israel in March (2020), I was praying on the shore of the Sea of Galilee and God said, "Be a good steward of the teaching that I have given to you."
I started to write Interruptions when I returned home. I sit, words come, I write – every day. I have several books that need written. I will still preach. I will not be the organizational leader of Fellowship!
48 years!