Grandchildren are the crown of old men, And the glory of sons is their fathers.  Proverbs 17:16
I married Barbara. Barbara has two sisters – Beverly and Carol. Beverly married Mark while Carol married Ken. As to sisters, I think that I got the best deal.  Though Ken and Mark have the right to disagree.
As to guys, I also think Barbara got the best deal! (Editor's Note about Pastor Grant being the best deal – Yeah, right!)
Recently we went to Nashville. Beverly and Mark live in Nashville along with their clan of sons and one lovely daughter, Renee. Their children now have children – the visit was lots of fun.
On this trip, Ken and Carol also came.
Everyone likes to laugh and talk loudly. Think of the pre-COVID noise of the Ohio State University football stadium after a score against Michigan.
Our family, with two daughters and a son, visited Nashville often while our children were growing up. Our children are great friends with their Nashville cousins. The Nashvillians don't live in the downtown area but in the hills southwest of town. We experienced guns, hunting, fishing, wild turkeys, canoes in rivers, ATVs, and all things country while visiting their cousins.
Yes, I could do all of this in Springfield, but not as easily since I don't own boats, guns, or fishing poles.
When my children were young, I told them on their first few trips to not worry about food. That while there were no McDonalds, the cousins from Nashville had plenty of fresh Horsemeat Lasagna and Smoked Roadkill.
Of course, I jest.
The last night, we were all served a smoked brisket that should have had the Ohio State Marching Band playing "Le Régiment de Sambre et Meuse" (during Script Ohio) as it was served.
After the brisket, we began a new tradition.
Brother-in-law, Mark, had let several large garden spiders spin their webs in bushes at the front of the house. Aaron, Tara, Ethan, Marcus, Cam, Mark, Bev, Ken, Carol, Grant, Barbara, Cole, Renee, and screaming grandkids caught grasshoppers and placed them on the spider webs.
The spider would instantly wrap the grasshopper in webbing, inject some poison, wait for the bug to stop struggling, and then carry it to the middle of the web for dinner. An outdoor activity possible only in Nashville.
I wondered if the spider thought the grasshopper tasted like brisket.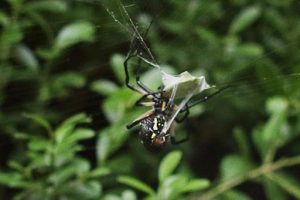 I had a dream last night about spiders and woke up thinking something was crawling up my leg. It wasn't a spider; just an imagination inspired by feeding spiders and eating too much brisket.
Ken and I rode our bikes for 27 miles up and down hills. My goal was to make it over the hills. A good ride, until at the very end, a large diesel pick-up truck, driven by a man in a cowboy hat, slowed down next to us, revved his diesel engine, and smoked us with a cloud of black smoke.
They call this "rolling coal." Is it wrong for me to pray that a spider crawls up his leg today?
It's morning outside of Nashville as I write this blog looking at a pasture shrouded in fog. I just went over my memorized Life Verses (Romans 13:14, James 1:21, Matthew 6:33, and Psalm 19).
No sightings of a country star this trip, though Luke Bryan lives on a farm very close to the Elliotts' pasture. We did visit downtown Nashville. It was crowds, honky-tonks, loud, and I was glad to leave.
I enjoy visits to Nashville, but not for the reasons most go to Nashville.